Reports on each registered phone for asset and inventory management. Track phones and collect serial and status reports.
Phone Inventory Tool for Cisco CUCM
Phone Inventory Tool for Cisco Unified Communications Manager versions 6 to 11 generates instant reports on each phone. It can be used to gather data for phone inventory and asset management. Reports contain phone configuration and registration (status) information.
Reports can be produced in Word, CSV, Excel or HTML format and can be based on company templates and color schemes. The report information can be sorted by phone name, extension number or description and can optionally be grouped by phone type or registration status.
The Phone Inventory Audit (comparison) reports on added or deleted phones, changes to phone configuration and registration status (de/registered) and can be further processed in Excel. Scripting allows to integrate the system into third party configuration and asset management systems.
The Phone Inventory Tool is now included in the Uplinx® Report Tool for Cisco Unified Communications.
Phone model, MAC, switch name and port to which the phone connects, IP

Phone hardware and software versions

Serial numbers including serials of phone expansion module (KEM)

Cisco phone configuration details such as device name, first extension and line text

Registration Status (RIS)

All phone counters and statistics

Reports in HTML, CSV, Excel and Microsoft Word.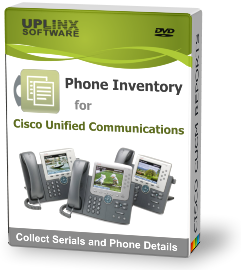 Phone Inventory reports allows me to collect all serial numbers and registration status of all phones within minutes.
We wrote a batch script that collects all information so that our asset management system is frequently updated. All fully automated.