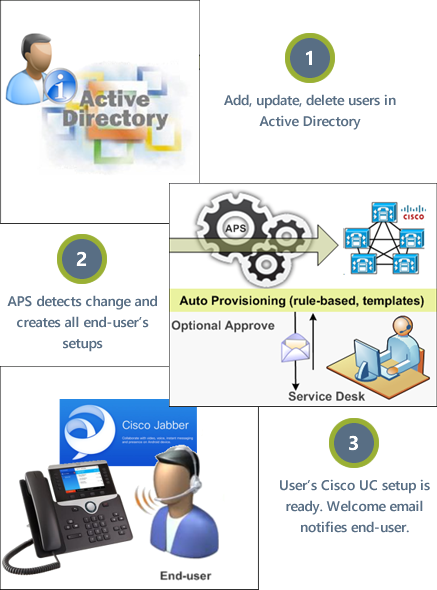 Auto Provisioning for Cisco creates (automatically, or on approval) the following setups required by Cisco Unified Communications based on user information in Microsoft Active Directory:
Any combination of Cisco phone(s), Jabber, CSF, RDP with auto allocation of extension(s) from the site extension range. Shared extension(s) and pre-allocated extensions are also supported.

CUCM end-user with roles, associated devices, owner userid and voicemail extension.

Device Profile(s) for Cisco Extension Mobility Simplify phone deployment by reformatting auto-registered phones to site specific logged-out phones for

Cisco Extension Mobility. There are no other steps involved other than plugging the phone in on a desk. For increased security, approval by help desk can be mandatory.

Automatic, assigned or approved allocation of extension(s) from site pool(s). Write-back of user's extension to AD.

Voicemail on Cisco Unity Connection or Microsoft Exchange.

Presence on Cisco IM and Presence (IMP/CUPS) and Microsoft Lync

Full support for Cisco TAPS
An email can notify the end user of their setup and how to use their telephony device and can also include attachments for training purposes.