Rapidly setup Cisco phones, device profiles, voicemail and presence details - Correctly, first time, every time.
Provisioning System for Cisco Unified Communications
The Uplinx Provisioning System for Cisco Unified Communications is a comprehensive commissioning system which makes it easy to perform advanced commissioning tasks for end users in no time.
Rapidly setup Cisco phones, device profiles, voicemail and presence details - correctly, first time, every time - thus reducing operational costs associated with daily telephony operations.
It enables help desks, customers or site administrators to manage their own telephony users by limiting access and enforces an organisation's standards and policies to telephony configurations on a single web GUI whilst also providing reports on all performed operations.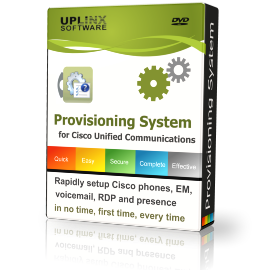 Smart Console for Easy Commissioning
Enable site admins and help desk

Reduce cost and improve service quality

Avoid time consuming operations

Increase employee satisfaction

Free up time of your IT experts

Provision correctly, first time, every time
The Uplinx Provisioning System assists in creating, updating and deleting users, phones, Extension Mobility profiles, voicemail and all associated end user objects in Cisco Unified Communications Manager and related telephony servers (Cisco Unity Connection, Cisco Unified Presence, Microsoft Active Directory, Exchange and Lync).
Simplify Day-to-Day MACD Provisioning for End-Users
Benefits of the Uplinx Provisioning System for Cisco Unified Communications include:
A single web interface to provision all end-user required configurations.

Allow basic trained staff to carry out day-to-day MACDs.

Console for Helpdesk: MACD requests are received via a support tool or email.

Limit access for site administrators, customers or helpdesk to manage their 'own' users and phones and specify which settings can be modified by pre-defining available values.

Eliminate configuration mistakes by defining site and location based parameters which allow everyone to perform prvovisioning without prior knowledge. A single customisable interface that only provides editable fields that are relevant to a specific site or UC deployment.

Perform any MACD operation in less than 30 seconds including email notification!

Re-use information from Active Directory to prefill location based templates to reduce efforts and to minimise data entry errors.

Email notifications to requester, end-user or administrators.

Automatic detection of added, changed or deleted users in the enterprise through the Active Directory change tracker.

Portal page (Self-service or to place orders).

Audit trail and full reporting on provisioning activities.

Bulk deployment.

API Integration allows your organization to further leverage the Provisioning System by integrating it into 3rd party systems. Provision users and devices from your existing systems with less than 10 lines of code.

Provides workflow for a help desk with provisioning console, reporting on changes and requests, pre-fill email to notify requester.
Multi-Tenant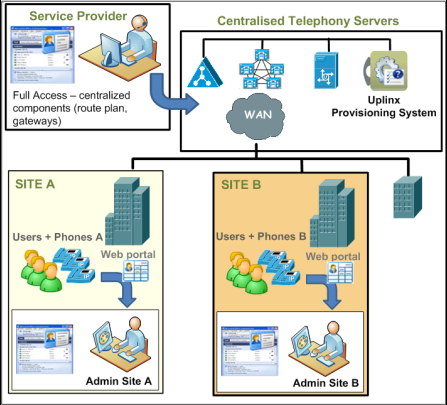 Whether your Cisco infrastructure is running on a shared (colocated) or dedicated infrastructure, the Uplinx Provisioning System enables your customers or internal departments to securely manage their own Cisco IP phone and users with a simple and secure web based management interface.
Ideal for Managed Service Providers or an internal IT Provider within your organization, the simplified Management Console allows for granular access to centralized Cisco UC infrastructure in a simple and safe manner. Granular access controls allow configuration policies and standards to be enforced on Cisco UC servers or Active directory rules whilst also providing reporting and logging on a per tenant basis.
Scale and reduce costs by sharing a centralized Cisco UC infrastructure such as gateways and route plans, whilst delegating management of phones, users, voicemail and presence to other business or customer administration functions such as service desks. Multi-tenant your Cisco Unified Communications environment by utilizing the Uplinx Provisioning System which will provide a path for increased profits through:
Maximize utilization of Cisco servers as a shared resource.

Faster deployment of UC features and improvements.

Enable customers or telephony site admins to control their own user configurations.
The Uplinx multi-tenant management solution included with the Uplinx Provisioning System provides secure access for hosted tenants to manage all their end user related server configuration from a single, easy to use, interface.
Cisco Unified Communications Manager (CUCM)

Cisco IM and Presence server (IMP/CUPS)

Cisco Unity Connection (CUC)

Any SQL databases

Microsoft Active Directory (optional)
Microsoft Exchange Email and Unified Messaging (voicemail)

Microsoft Lync for presence and Remote Call Control (RCC)

Microsoft Active Directory to retrieve, track and provision end user information

CUCM end user and associations

All available phones (Hard phones and all softphones incl Jabber) with allocating extension. Auto-registered phone deployment.
Cisco Extension Mobility - Device Profiles and extensions

Voicemail on Unity Connection and Exchange

Cisco Mobility (Remote Destination and RD Profiles)

IM and Presence services configuration
Our service desk can now quickly and effectively process user provisioning. All is to our standards and the system ensures that everything is done correctly.
Since we have deployed Uplinx Console, I have time again to extend functionality and progress projects. Basic support requests and MACD are now handled by the help desk.