Remotely control Cisco IP phones from your desk. Login users remotely, place calls and change phone settings.
The UPLINX Remote Phone Control tool enables a phone administrator or help desk operator to remotely control Cisco phones from their computer. Phone operations that normally could only be performed locally at the Cisco phone can now be executed remotely without leaving your desk.
Time consuming trips like 'walking the floor' for user support, to configure phones, validate settings or troubleshoot a reported issue are now a thing of the past.
Join The 1,340+ Satisfied Remote Phone Users!
Remotely control Cisco phones
Remotely control Cisco phones from your desk (screenshot below) by pressing the keys and viewing the phone's display as if sitting at the phone. Read More...
Cisco Extension Mobility
Remotely log in and log out a user's device profile for Cisco Extension Mobility. Script or perform status/login/logout operations.
Screen Captures
When remote controlling a phone, an image of the phone's display can be saved for user guides and as-built documentation.
Generate a report containing screenshot of phones: Easily create a report containing screenshots of a list of selected  phones. Verify background image deployments or check phone screens after migrations. Read More...
Bulk Operations with easy-to-use Wizards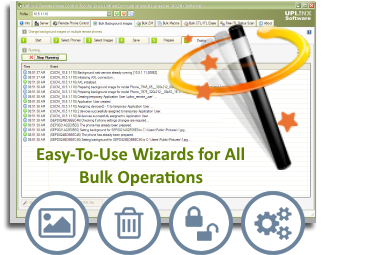 Remotely Validate Cisco Phone Functionality
Remotely log in an extension mobility profile, check the phone display and call your desk phone to troubleshoot without traveling or engaging end users or site staff.
Remote Training and Support
Support staff can remotely view and control a Cisco phone and talk an end-user through unique features which may be configured on their Cisco phone or User Device Profile, such as Group Pickup, Conference or Hunt Group.
Monitor Voice Calls
Monitor remote voice streams with Cisco Silent Call Monitoring to improve troubleshooting and validation of phone configurations.
Multi-Cluster and Multi-User support
IP phones registered to different CUCM clusters are fully supported concurrently. Includes granular user privileges with reporting and logging for high security. (Web Edition only)
Windows Application or Web Browser?
Desktop Edition: Low-cost Windows application installed on user's desktop computer to remotely control, migrate and configure Cisco phones. For support, deployment and migration tasks with Bulk tools. Read More...
Web Edition: Secure support from your help desk by any web browser to all user's phones. Secure access control, logging and authentication. Installed on-premise on Windows Server. Read More...
Generate your FREE & FULL report for invalid ITL files on Cisco phones. Identify any issues...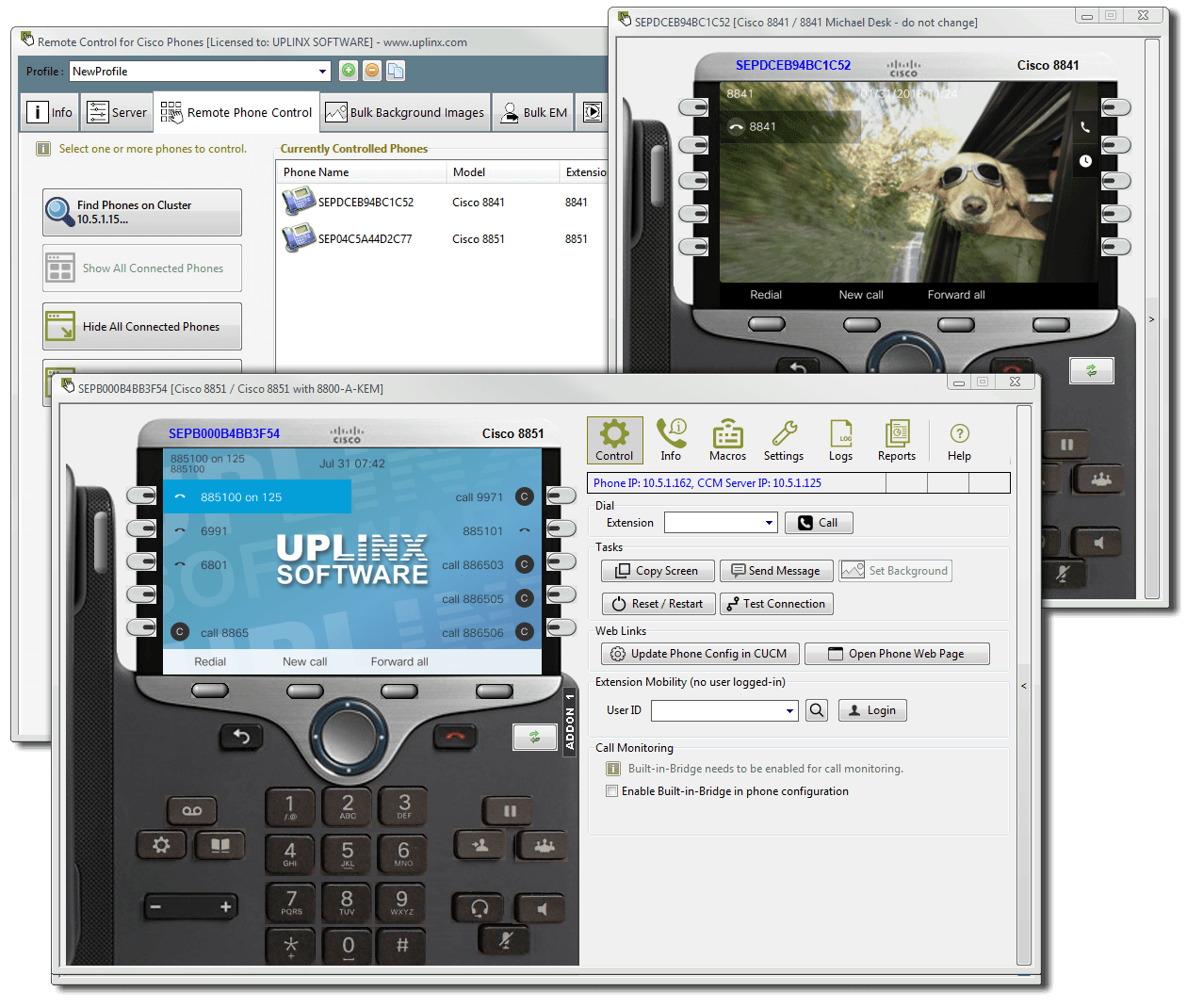 The UPLINX Remote Phone Control tool allows a phone administrator or help desk operator to remotely control a Cisco phone from their desk. Phone operations that normally can only be performed locally at the Cisco phone, can now be executed remotely from your computer. with the same level of control as if sitting at the phone.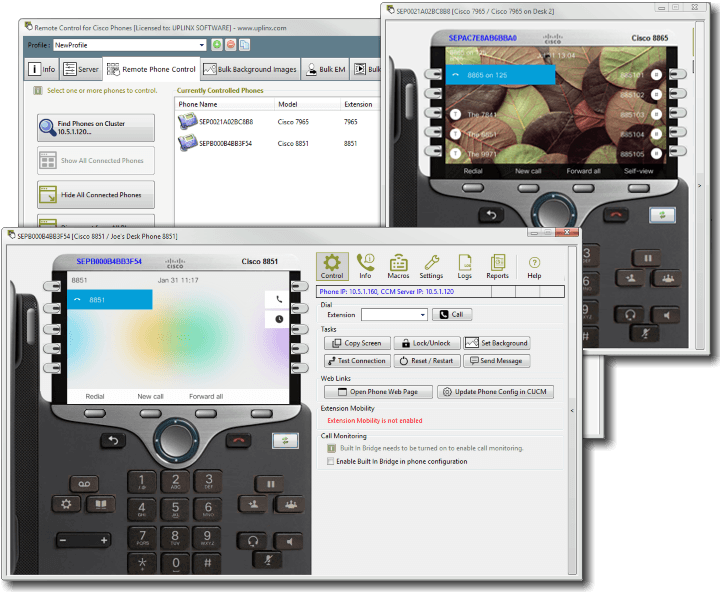 Test a remote phone from your desk by placing calls, changing settings and login or logout Extension Mobility profiles.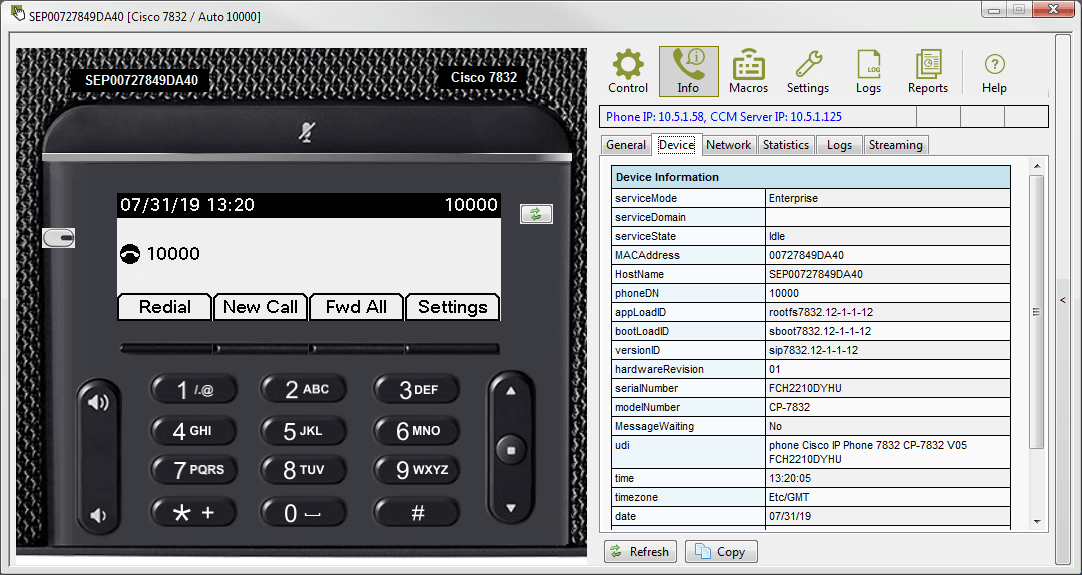 Support for the latest Cisco phone models is included in software maintenance.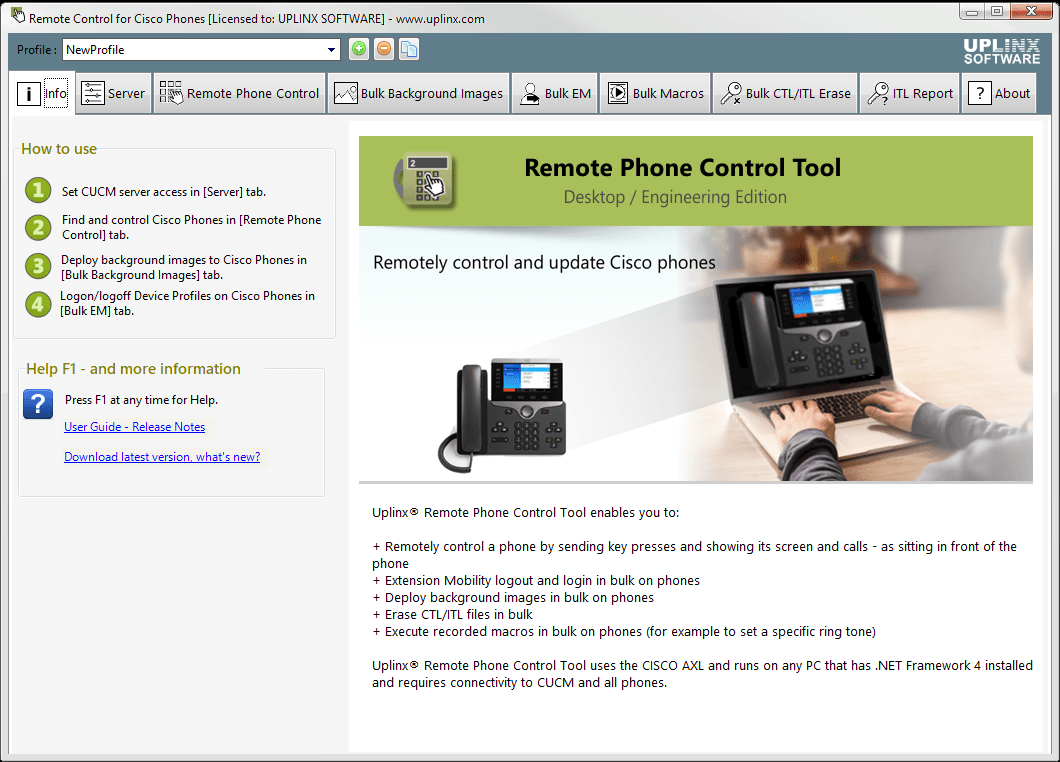 Desktop edition of UPLINX Phone Control is a Microsoft Windows application which is quickly installed and easy to use.
The Web Edition of Phone Control Tool works on site with windows server. It is the goto solution for help desks and support.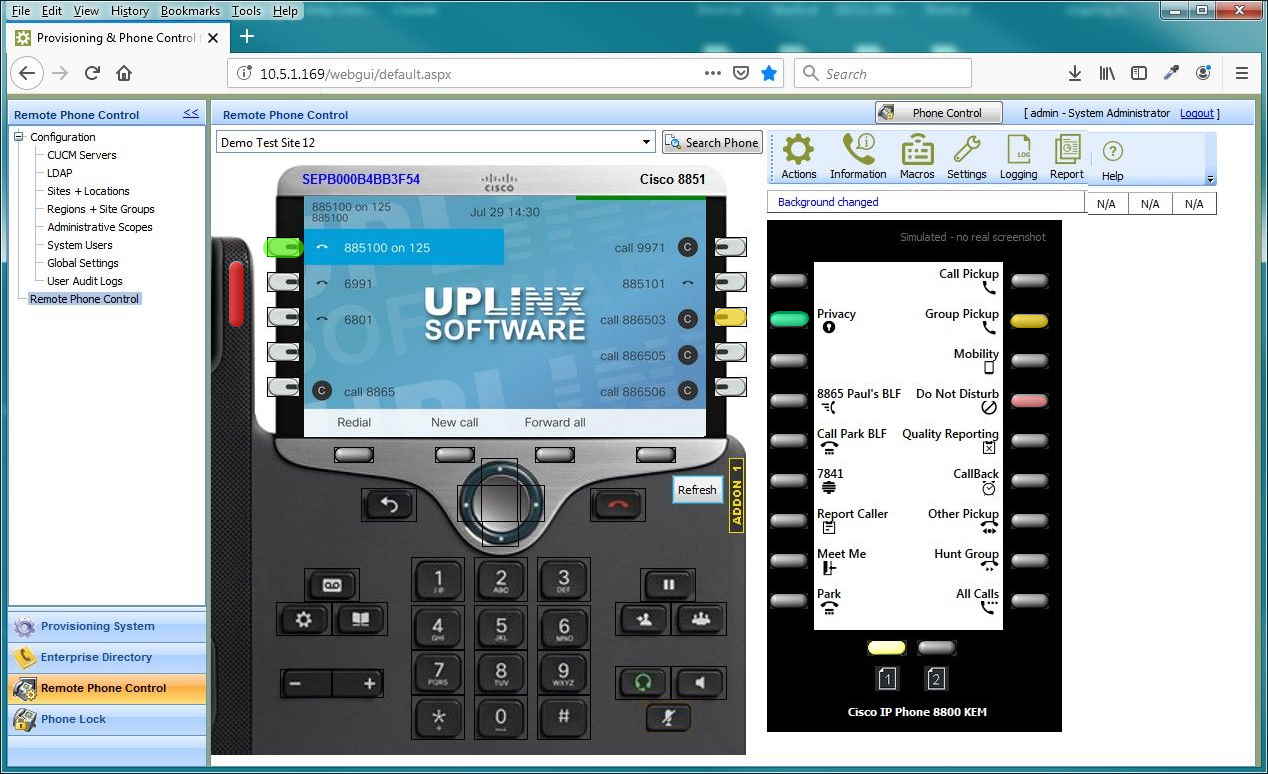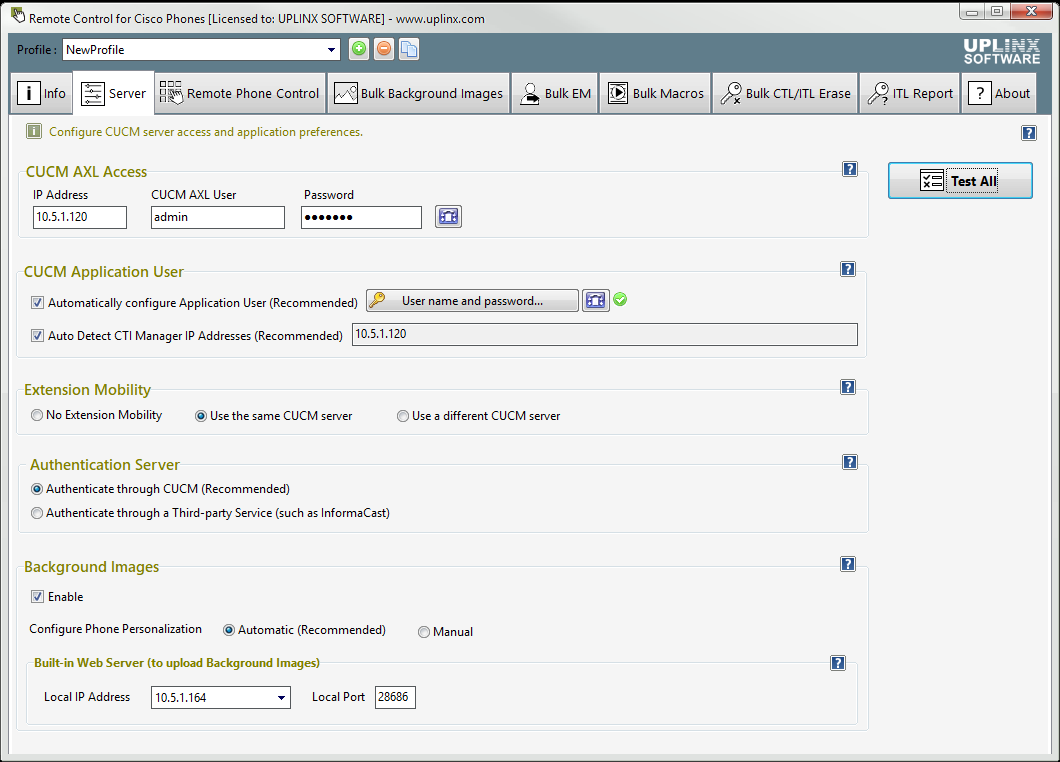 To get started with the Desktop Edition, configure the CUCM server details and all is ready to go. JTAPI is used to control phones. Download and install the trial version now. See how easy it is!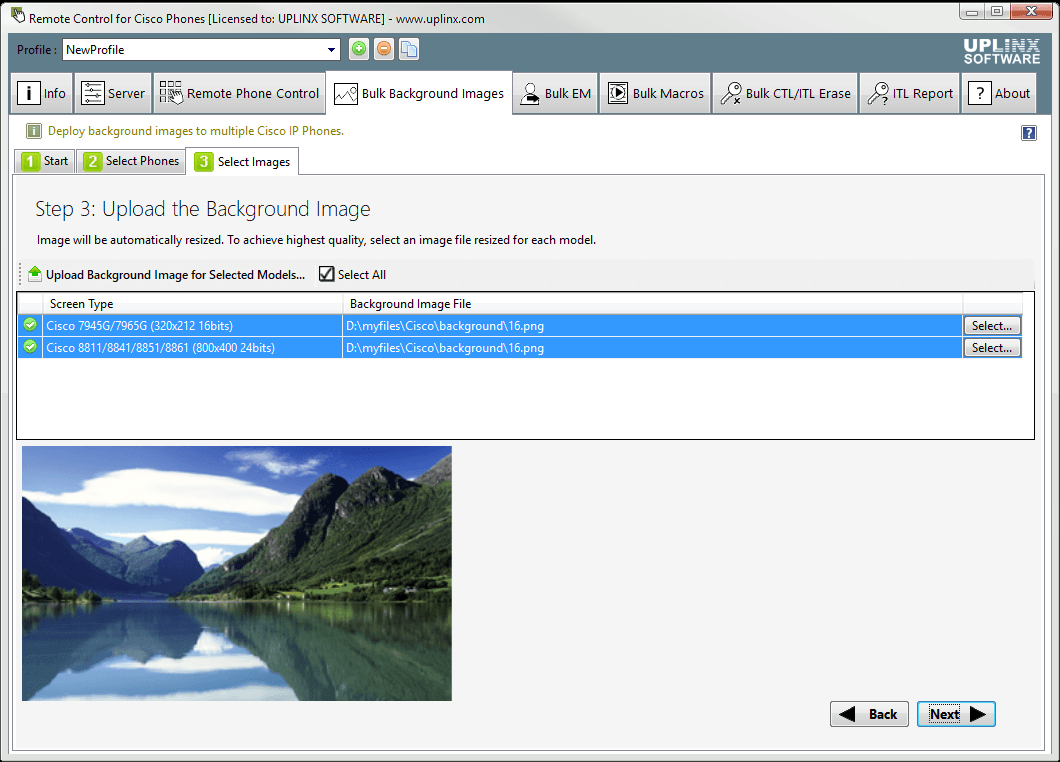 Bulk deploy background images to phones within minutes. Images are automatically resized to suit any Cisco phone model.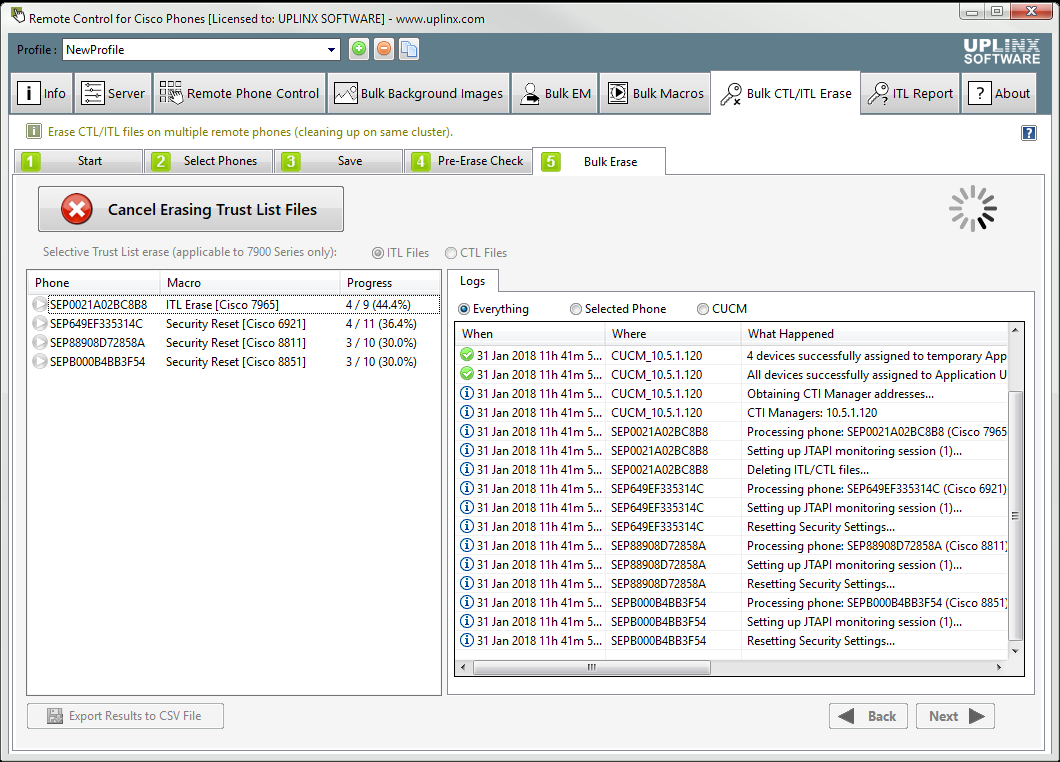 Erase CTL-ITL files from phones for Cisco CUCM server migration and upgrades. Please read more about ITL files on Cisco phones and important migration steps in our how-to migration guide.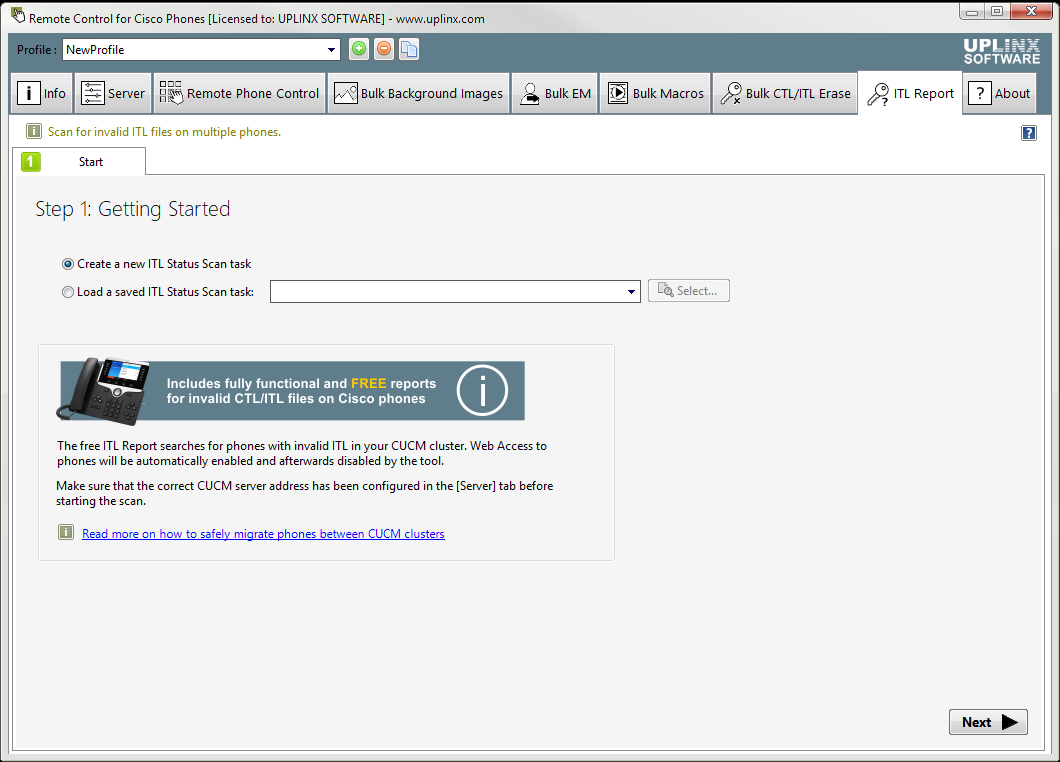 The FREE ITL report (no license required - included in trial version) checks Cisco phones for invalid ITL files to identify issues in your CUCM deployment.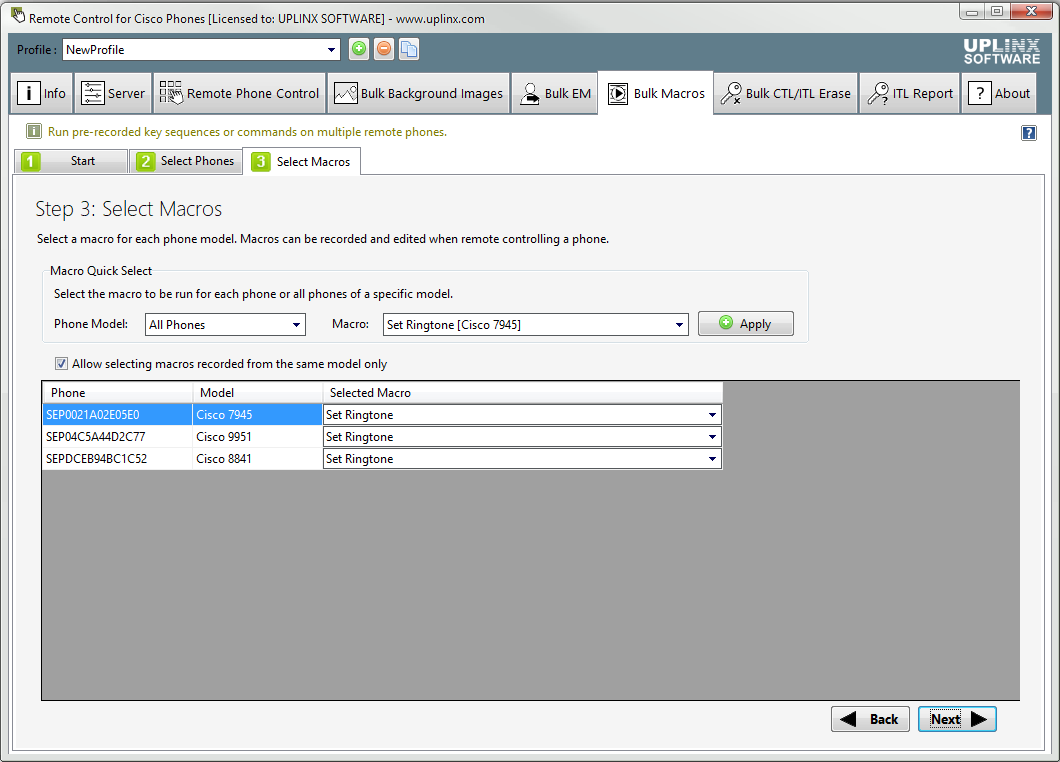 Record and replay key macros to multiple phones to apply settings to Cisco phones. For example to set the ringtone on a line.
Engineering Edition
The Swiss Army Knife for engineers and administrators to remotely control and configure Cisco Phones
Windows Desktop Application
.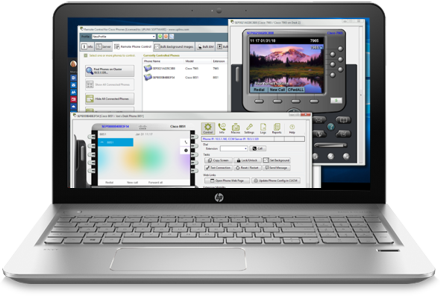 Windows application for Cisco project engineers and experts to remotely control and configure phones without leaving the desk. Can be used for a single phone or a group of phones in bulk.
Remotely control Cisco phones.

4 bulk operation wizards to easily perform:
Finding invalid ITL files and Erase CTL/ITL files from Cisco phones.

Extension Mobility logout and re-login from a spreadsheet.

Background image deployment.

Bulk Key Macros to change settings which are only accessible at a phone, such as:
Set a specific ring tone per line.

Change Ethernet port settings.
Help Desk Edition
Designed with security in mind, and optimized for active operational support.
Web Edition for Windows Server
.
The web edition is designed for help desks and operational support of telephony systems in production. It runs on-premise on Windows Server.
Web browser access requires no application deployment.

Multi-cluster, multi-user support with granular auditing down to individual actions.

Strong security with audit logs of logins and actions containing who, when and what has been done.

Dedicated and granular access rules centrally managed and controlled. User access to Cisco phones can be limited per device pool, extension range and other filters.

No CUCM administrator account is required to use remote phone control. Authentication of login credentials via Active Directory means no CUCM administrative access.

Supports data and voice VLAN separation and firewalls with clear traffic flows from the Phone Control server to phones and the CUCM servers. User browser access is only to the Phone Control Tool web server, enabling strong security policies.
Supported Cisco IP Phones
7906, 7911

7921, 7925, 7926 WLAN phones

7940-45, 7960-65, 7970-7975, 7931

69xx

78xx

89xx
88xx

99xx

all Key Expansion Modules (KEM) for above phones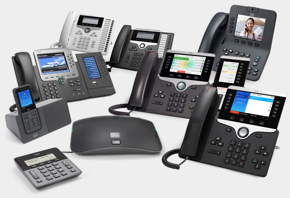 Remote Phone Control helps me talk to users needing support, it shows all the details of the remote phone.
The wizards allowed me within minutes to deploy background images and to log in Extension Mobility users.