The Desktop Edition of UPLINX Phone Control Tool is a Windows application to remotely view, control and configure Cisco phones without leaving the desk. It is typically installed on a Windows Desktop or shared jump server (Windows Terminal Server accessed with RDP). One license is required per windows user account.
The tool is used by Cisco support teams (help-desk), Cisco admins, engineers and Cisco experts to perform support, deployment or upgrade tasks of Cisco phones and Cisco Unified Communications Manager servers.
The Swiss Army Knife for engineers and administrators to remotely control, migrate and configure Cisco Phones
The Wizards, only included in the Professional or Enterprise license of the Desktop Edition of UPLINX Phone Control Tool, perform operations on multiple Cisco IP handsets in bulk to deploy, upgrade or migrate many Cisco phones in one operation to save time.
The UPLINX Remote Control Tool Desktop Edition can be used for a single phone or a group of phones in bulk. It can perform the following actions from remote:
Remotely control Cisco phones.

4 bulk operation wizards to easily perform:

Finding invalid ITL files and Erase CTL/ITL files from Cisco phones.

Extension Mobility status export, logout and re-login from a spreadsheet.
Background image deployment

Bulk Key Macros to change settings which are only accessible at a phone, such as

Set a specific ring tone per line.

Change Ethernet port settings

Screenshot a group of phones.

Send text messages to phone screens for outage or emergency alerts.
Tool operations can be executed from command line and in scripts.



Do you need a Centralized
Web Server Solution
to Remotely Control Cisco Phones?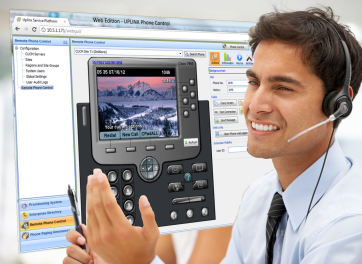 UPLINX
Remote Phone Control Tool
Web Edition

For Help Desks and Operational Support
Runs On-Site on Windows Server
 Strong security

Web Edition
Read More ...