Server License and 1,000 phones
The Web edition of the Uplinx Phone Control Tool requires a Windows Server (2016 or later, standard edition or higher, virtualized, 4GB Ram, 65 GB disk).
This server license includes up to 1,000 phones on a single CUCM cluster and unlimited users.
1 x Server License - Remote Phone Control (Web Edition): 3,900.- USD
Additional Phone License Bundle
To extend the license beyond the 1000 phones included in the Server License, additional phone license bundles can be added on top of the base license. Each bundle provides licenses for 1000 phones.
Annual software maintenance and support is included in the first year. In the following years it is 25% of the initial licensing cost.
What are the advantages of the Web edition?
The web edition has the following benefits over the desktop version:
Web based - does not require installation on each user's desktop

Multi-user and multi-site. User access defined per site

Logging and reporting of all activities per site and user

Does not require sharing of strong passwords and access to CUCM

Security can be implemented with firewalls. All traffic flows between Remote Phone Control server to CUCM and phones

Allows for monitoring of voice streams (via Cisco silent monitoring)
Engineering Edition
The Swiss Army Knife for engineers and administrators to remotely control and configure Cisco Phones
Windows Desktop Application
.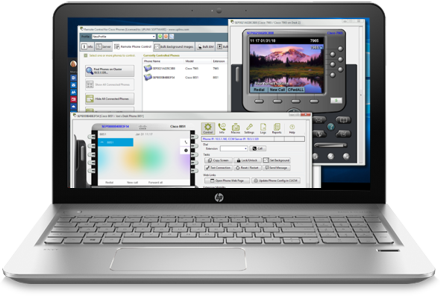 Windows application for Cisco project engineers and experts to remotely control and configure phones without leaving the desk. Can be used for a single phone or a group of phones in bulk.
Remotely control Cisco phones.

4 bulk operation wizards to easily perform:
Finding invalid ITL files and Erase CTL/ITL files from Cisco phones.

Extension Mobility logout and re-login from a spreadsheet.

Background image deployment.

Bulk Key Macros to change settings which are only accessible at a phone, such as:
Set a specific ring tone per line.

Change Ethernet port settings.
Screenshot a group of phones.

Send text messages to phone screens for outage or emergency alerts.

Tool operations can be executed from command line and in scripts.
Help Desk Edition
Designed with security in mind, and optimized for active operational support.
Web Edition for Windows Server
.
The web edition is designed for help desks and operational support of telephony systems in production. It runs on-premise on Windows Server.
Web browser access requires no application deployment.

Multi-cluster, multi-user support with granular auditing down to individual actions.

Strong security with audit logs of logins and actions containing who, when and what has been done.

Dedicated and granular access rules centrally managed and controlled. User access to Cisco phones can be limited per device pool, extension range and other filters.

No CUCM administrator account is required to use remote phone control. Authentication of login credentials via Active Directory means no CUCM administrative access.

Supports data and voice VLAN separation and firewalls with clear traffic flows from the Phone Control server to phones and the CUCM servers. User browser access is only to the Phone Control Tool web server, enabling strong security policies.