Report Tool for Amazon Connect (Contact Center)
The UPLINX Report Tool for Amazon Connect automatically generates customizable professional documents in Microsoft Word, HTML, Excel, CSV, and Windows Help format in minutes—a task that would otherwise take many hours.
Diagrams of Amazon Contact Flows are created as vector graphics (SVG) and included in all generated reports, ready to be reused with any graphic editor. Use one of the many beautifully crafted templates or create your own templates for Word or HTML based on your corporate standards.
Generated reports include the following Amazon Connect configuration elements:
Contact Flow Diagrams

are auto-generated as

vector graphics

(SVG). Re-use and modify with your preferred graphic editor and diagramming software.

Analytics and Optimization Rules, Custom Vocabularies, Evaluation Forms

User Information User, Security Profiles and user Hierarchy Groups

Routing Information Prompts, Queues, Routing Profiles, Hours of Operations, Quick Connects

Channel Information Phone Numbers, Task Templates

Instance Information
Generate Comprehensive As-Built Reports
UPLINX Report Tool is a simple to use tool that automatically creates technical documents for Amazon Connect. Generate customizable professional reports in HTML, Excel, CSV and Microsoft WORD format with this easy-to-use document creator.
Predefined report templates and customizable document formatting and tool options ensure high-quality reports that adhere to your corporate standard documentation. The generated Microsoft Word reports can be changed to your needs and then converted to PDF.
Ready to simplify document creation? Produce professional looking Word documents including diagrams of all Contact Flows. All beautifully formatted including table of contents and ready to PDF in less than 5 minutes.
Pre-view the easy steps How to generate an Amazon Connect report and then install on your Windows Desktop to see for yourself.
Create Diagrams of all Contact Flows
Easily visualize your Amazon Connect architecture in minutes instead of creating your diagrams by hand. Amazon Connect Contact Flows define the workflow of your contact center and are crucial for your business; however, the web-based Amazon flow designer cannot export the flowcharts, and printing them from the web browser isn't an option.
Here to help! The UPLINX Report Tool for Amazon Connect generates detailed diagrams of Contact Flows as editable vector graphics (SVG). These diagrams—commonly referred to as graphs, flowcharts, drawings, schematics, or layouts—are included in all generated documents and stored in a dedicated folder. All diagrams are fully editable with any graphical editor and look similar to the Amazon flow designer. ready to be printed or further modified to your needs.
Click to see a generated drawing of a Contact Flow
Simplify your Analysis and Reporting for:
As-built documentation

Configuration reports

Audits

Back-up

Architecture Diagrams of Contact Flows
Create Reports based on your own Templates
Customize your reports to adapt them to corporate branding and include your own content. Read More...
Data Security - for your Eyes only
The Windows Application creates all documents locally to ensure that confidential data stays only with you.
We're excited to announce the release of Uplinx Report Tool for Amazon Connect.
Free and fully feature enabled.
Benefit from UPLINX Report Tool for Amazon Connect
Generate technical reports in minutes with UPLINX Report Tool - save time and effort!

Automate report generation with customizable templates and predefined settings.

Generate diagrams (aka graph, flowchart, schematic or layout) of Amazon Connect Contact Flows as vector graphics to further process or print.

The Windows Application ensures that all documents are generated locally, keeping your confidential data secure.

Try UPLINX Report Tool for Amazon Connect for free for a limited time and give us your feedback - we'd love to hear from you!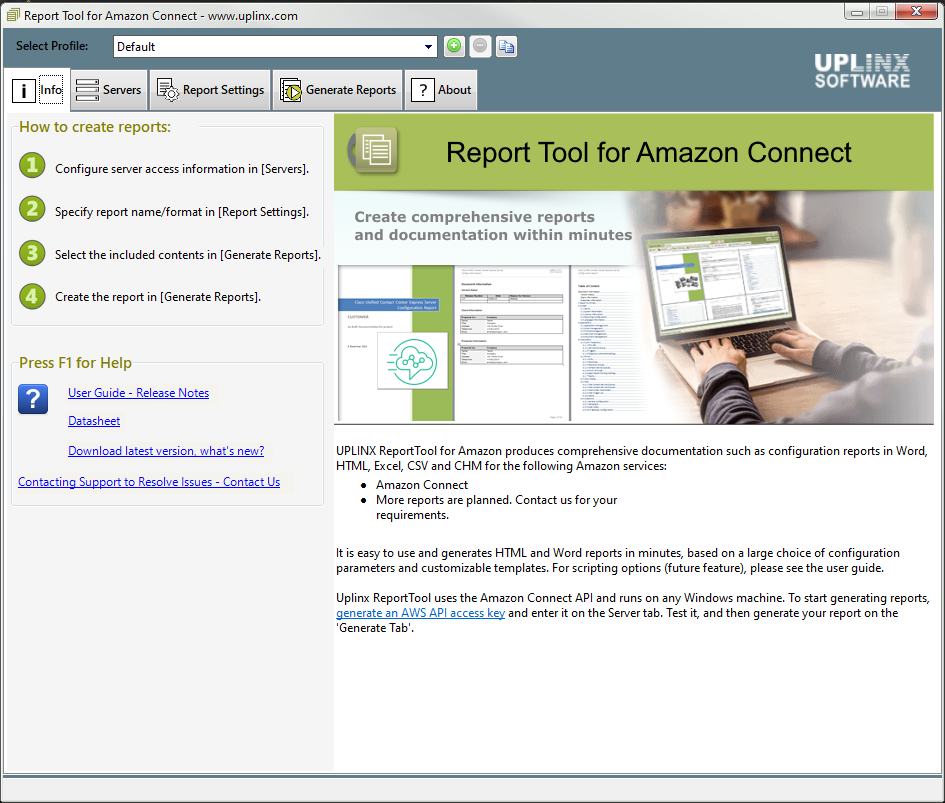 Report Tool for Amazon is a Windows Desktop application that generates reports for Amazon Connect within minutes.
Step 2: Enter report settings such as report name and format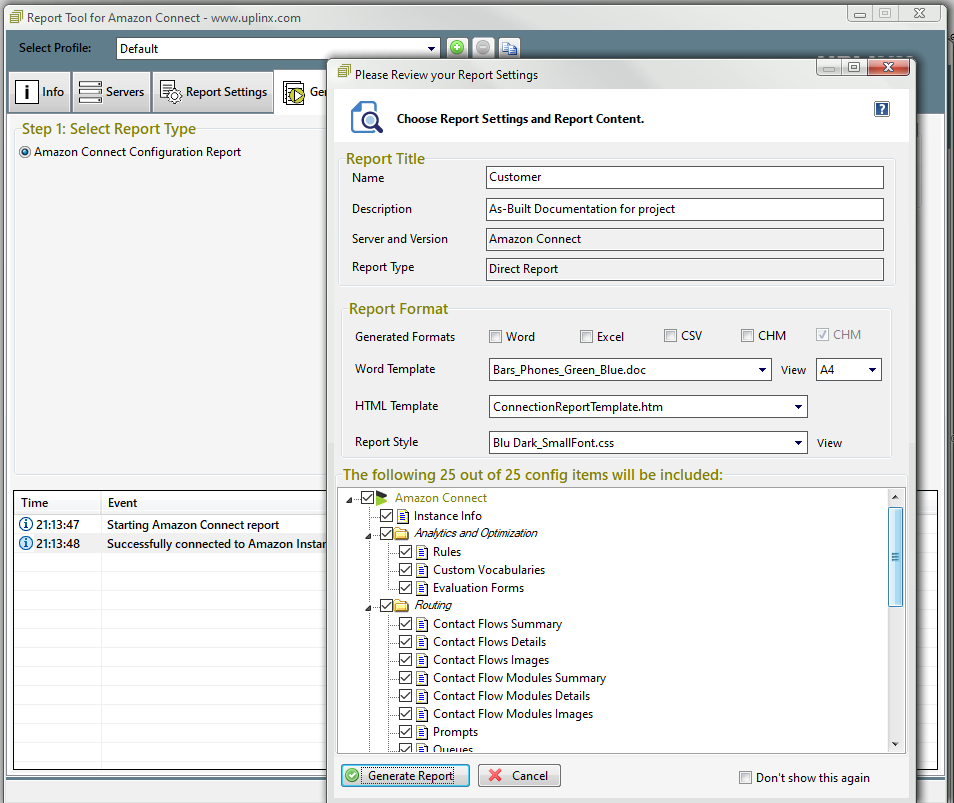 Step 3: Generate the report. Data is automatically retrieved and reports generated within minutes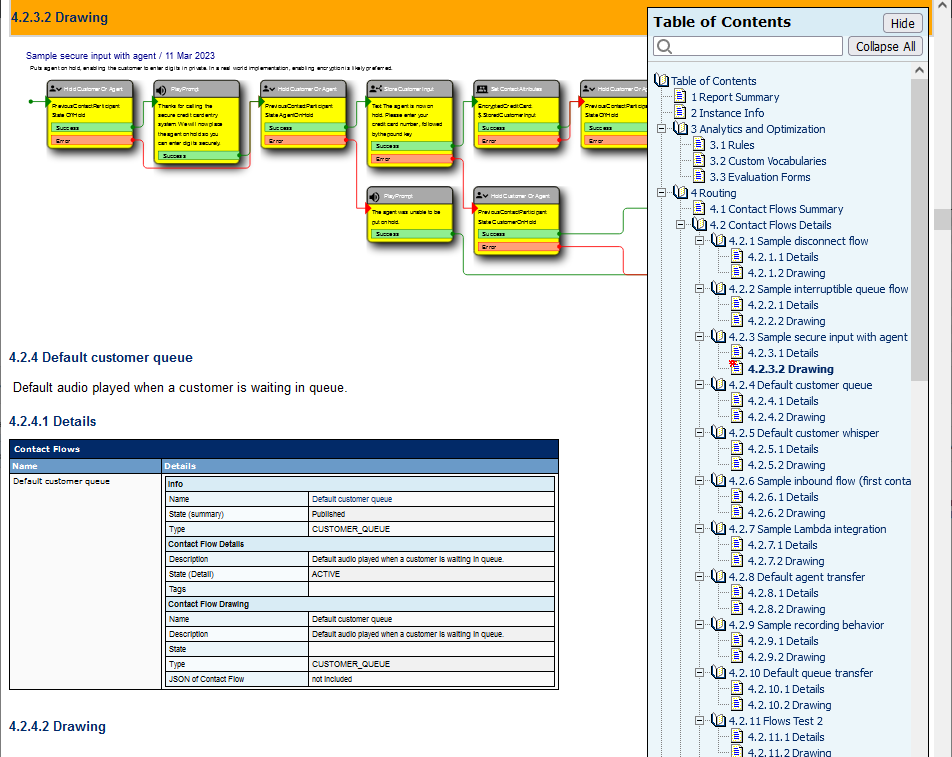 Step 4: View the reports. Reports are generated in the following formats: HTML, Word (DOC), CHM, CSV and Excel. See our sample reports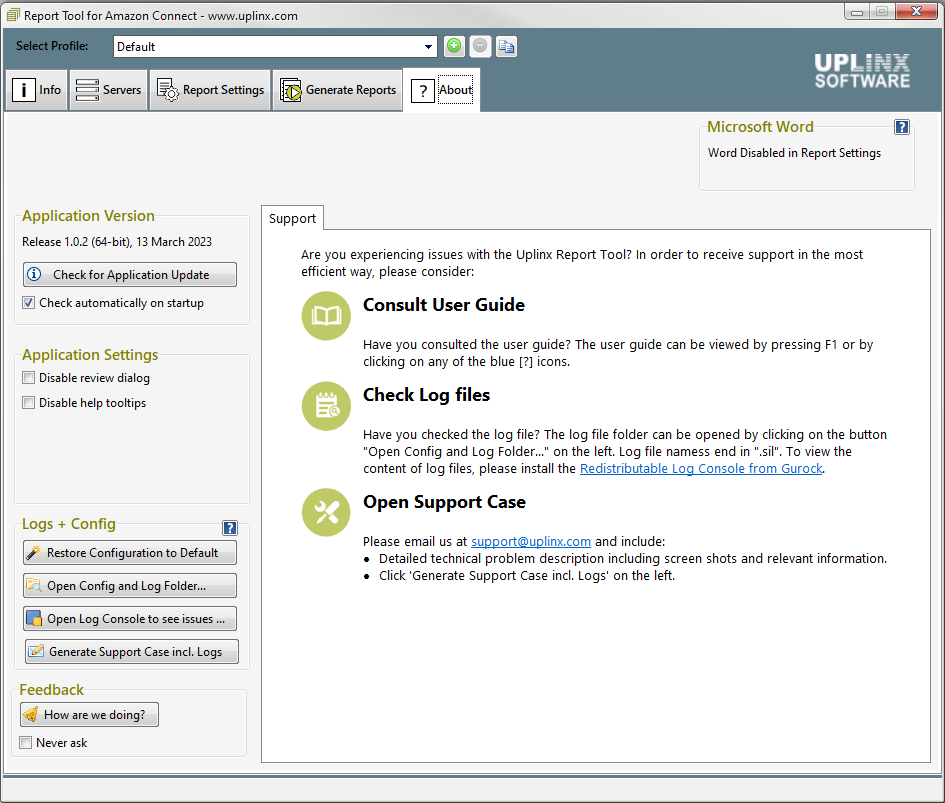 Download your free version to see for yourself how easy it is to generate reports