UPLINX Report Tool can automatically document all contact center call flows that you created with Cisco Unified CCX Editor. The screenshot below shows how the generated script is documented - it includes all icons, conditions, script steps, script variables and includes them automatically into HTML and Microsoft Word as-built documentation.
Sample docu chapter for a UCCX CRS script, incl. all script variables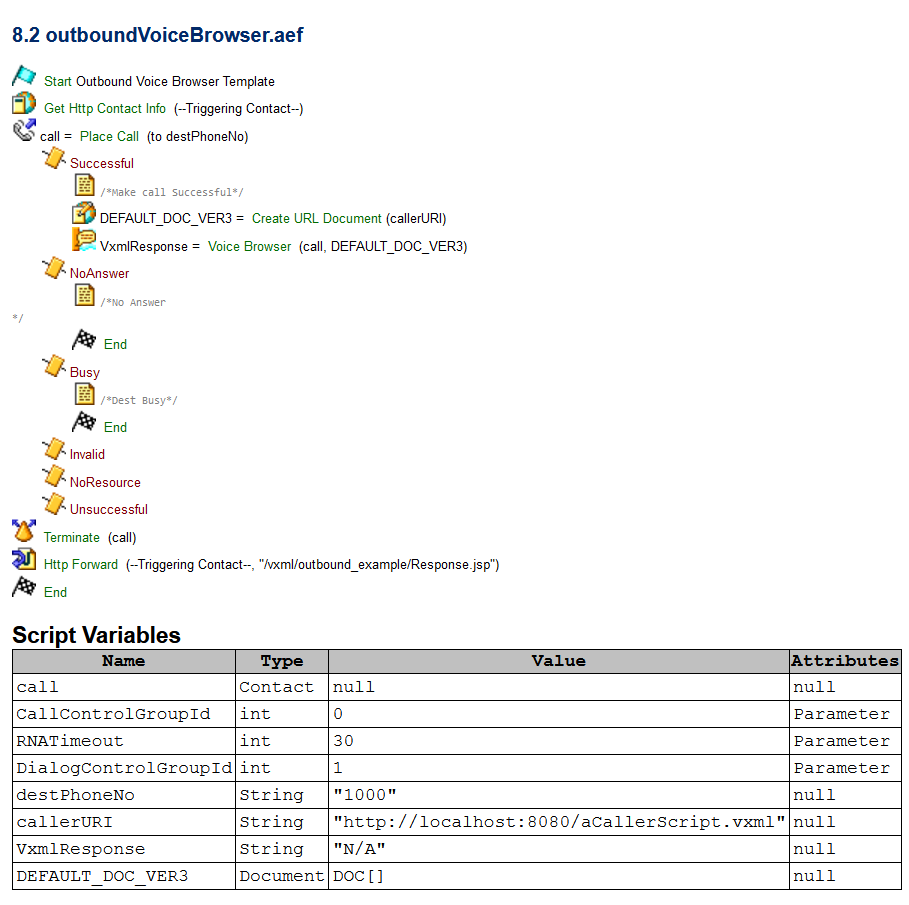 It helps you to effortlessly document all scripts of Cisco Unified Contact Center Express UCCX with the following benefits:
Comprehensive UCCX Documentation
UPLINX Report Tool provides comprehensive reports on all Cisco Unified CCX configuration aspects. The generated HTML and Word documents include all scripts, applications, users, teams, triggers, Finesse, CUCM CTI ports, CTI Routing Points (CRP), and all relevant UCCX configurations. It can also automatically download all AEF scripts.
Script Documentation
For the call flow script itself, UPLINX Report Tool automatically generates reports that capture the logic, steps, icons, parameter and variable settings, and other configurations within the script. This makes it easier to understand the script's functionality, variables, and call routing logic. Report Tool can be run interactively with a simple graphical interface or automated by any Windows batch script (see sample scripts)
Change Management
In a contact center, changes to call flows and scripts are common. UPLINX Report Tool simplifies to frequently and automatically generate call flow script documentation. This automation eliminates the need for manual efforts and enables you to quickly and efficiently track changes so that you can review and undo changes in case of issues.
Automate Generation and Script Backups
Fully automate the generation of your call center script documentation by a script from the Windows Task Scheduler (that can run nightly -- see sample scripts) so that you always have everything documented.
The UCCX scripts are also downloaded locally and stored in their original AEF formats to a directory and can be directly imported into the Cisco UCCX Script Editor to restore the previous configuration.
Quality Assurance
By documenting your script with UPLINX Report Tool, you can share and review your CRS script with experts without providing access to your UCCX server or network. This ensures best practices and quality standards - improving service and consistency in the contact center.
Training and On-boarding
When external experts and new team members join your contact center team, the well-documented call flows and scripts are immediately available for quick review, training, and on-boarding. It lets them quickly understand how the system works and how customer interactions are managed.
Troubleshooting and Debugging
If there are issues or errors in the call flow, having comprehensive documentation that also covers the CRS script steps, quickly created with UPLINX Report Tool, allows experts or yourself to inspect the code of the CRS script to identify the problem and find solutions to change the script steps.
Disaster Recovery and Redundancy Planning
Proper documentation is essential for disaster recovery planning and redundancy. If you need to rebuild or recover your contact center scripts and configurations, having detailed documentation generated by UPLINX Report Tool enables you to quickly re-set up a UCCX server. The UCCX scripts are also retrieved or downloaded and stored in their native AEF formats in a directory and can be directly imported into the Cisco UCCX Script Editor.
Regulatory Compliance
Contact centers may need to comply with various regulations depending on the industry and region. Detailed documentation allows external experts to efficiently review your CRS Scripts to check for errors or demonstrate compliance with relevant regulations and standards.
Project Collaboration and update to your scripts
Detailed documentation allows external experts to be quickly involved without giving them access to your contact center servers, ensuring everyone receives complete and up-to-date documentation that you have generated effortlessly. In the Microsoft Word document, use Word's comments feature to add suggestions, notes, or reminders to your documents - you could also turn on Track Changes to show edits made.
Unique Export Feature
UPLINX Report Tool's allows you, with minimal effort, to export and document Unified Contact Center Express's scripts in HTML, Microsoft Word (from there to PDF) and saves all native AEF scripts to a directory. This capability is not found in the native Cisco CCX Editor or any other tool. This exclusive function ensures thorough script documentation for reference, compliance, and management of your call flow scripts.