Les appareils téléphoniques CISCO utilisent des fichiers CTL/ITL pour stocker une liste de certificats serveur sur l'appareil.
Si le fichier CTL/ITL n'est pas correct, on peut avoir de sérieux problèmes au moment d'actualiser ou lors de migrations, puisque les appareils ne pourront plus dialoguer avec le serveur TFTP, et donc ne pourront plus actualiser leurs configurations.
Voyez plus d'infos à propos de 'Pourquoi les appareils Cisco n'appliquent pas la nouvelle configuration?' (en anglais).
Uplinx Remote Phone Control Tool a son outil d'élimination en bloc des fichiers CTL/ITL. Ceci vous permet d'éffacer rapidement et facilement les fichiers CTL/ITL files sur un groupe de téléphones, et à distance. Normalement cet opération peut seulement être effectué manuellement en présence de chaque appareil.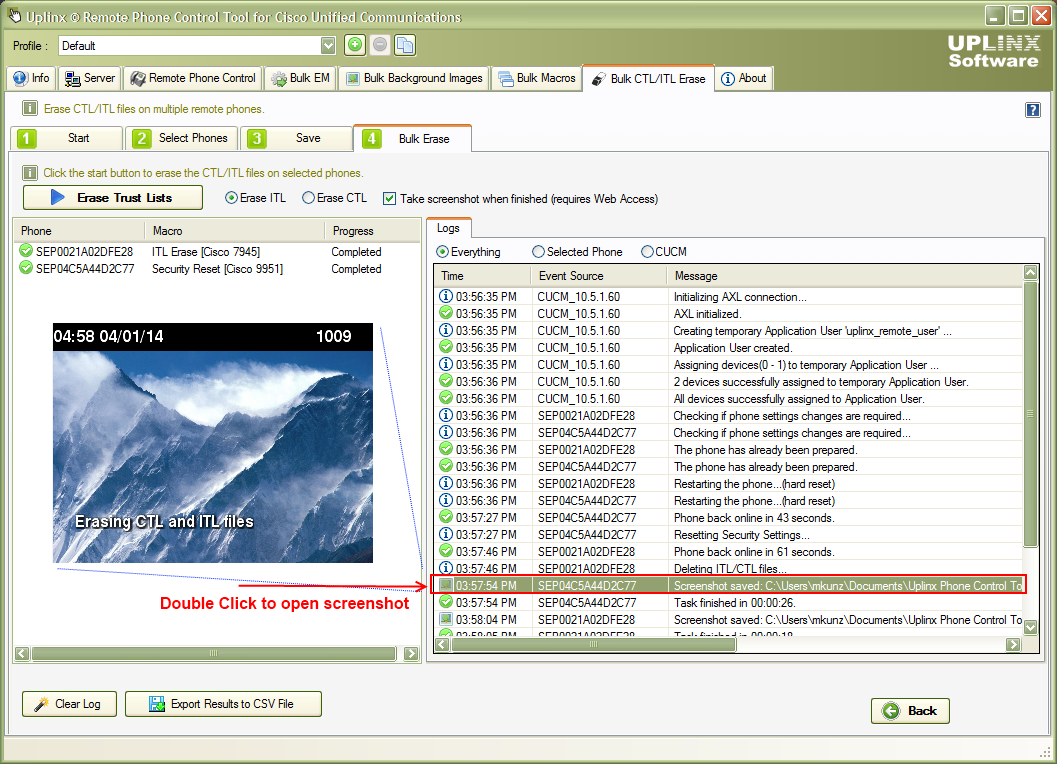 L'assistant pour l'effacement en bloc des fichiers CTL/ITL,  ainsi que d'autres fonctionnalités en bloc, nécessite une license Professionnelle, et n'est pas inclus avec la licence Standard.
Cet assistant vous aide a enlever les fichiers  CTL/ITL quand les appareils doivent être migrés vers un nouveau serveur CUCM. Si vous voulez migrer vos dispositifs Cisco, voyez les pas à suivre (en anglais) 'Comment migrer les téléphones Cisco vers de nouveaux serveurs CUCM'.
Si vous croyez qu'il pourrait avoir des fichiers ITL invalides sur vos téléphones, parce qu'ils n'acceptent pas de changements de configuration du CUCM, générez un rapport gratuit avec l'outil "Rapport de fichiers ITL invalides sur téléphones Cisco" inclus dans l'outil UPLINX Phone Control.

UPLINX Phone Control Tool vous aide à:
Les opérations en bloc, inclus dans la version desktop (Ingénieur), peuvent être executés depuis une ligne de commandes ou par script, pour programmer les tâches répetitives.
To get started, download your trial version now and follow these steps to Bulk CTL/ITL Erase for Cisco phones.