Erstellt in wenigen Minuten automatisch Berichte. Umfassende Dokumentation für Projekte, Audits und Migration.
Report Tool für Cisco Unified Communications
(English, French and Spanish versions of this page)
Das Uplinx Report Tool für Cisco Unified Communications spart Ihnen Zeit, indem es in wenigen Minuten automatisch angepasste professionelle Berichte in den Formaten HTML, Excel, CSV, Windows Help und WORD erstellt. Berichte können auch per Skript nächtlich erstellt werden.
Automatische Berichterstellung für:
Cisco Unified Communications Manager - CUCM Konfigurationsbericht mit allen 270 Elementen.

Cisco Unified Presence Server CUPS - IM and Presence Service IMP Konfigurationsbericht mit allen 75 Elementen.

Cisco Unity Connection - CUC Konfigurationsbericht mit allen 113 Elementen.

Cisco Unified Contact Center Express - UCCX Cisco UCCX-Konfigurationsberichte mit allen Skripts des UCCX Script Editor.

Cisco Emergency Responder - CER Konfigurationsbericht mit allen 36 Elementen.

Cisco Unified Computing System - UCS Konfigurationsberichte für Cisco UCS Server.

Cisco Expressway
VMware Konfigurationsbericht für VMware-Server und virtuelle Maschinen.

Provisioned Users Berichte pro Endbenutzer zu Telefon-, Voicemail- und Telefonnummer Einstellungen.

Cisco Phones Inventory Phone Inventory - Asset: serial, model, MAC, certificates, registration status and switch location per Cisco phone.

Cisco Meeting Server (CMS). Konfigurationsbericht.

Audit (Comparison) reports. Suchen, Überwachen oder Überprüfen von Konfigurationsänderungen in Cisco CUCM, IMP, CUC.

Singlewire InformaCast. Konfigurationsbericht.
Generieren Sie umfassende Berichte in Minuten
Das Uplinx Report Tool für Cisco Unified Communications spart Ihnen Zeit, indem es in wenigen Minuten automatisch und mühelos professionelle Berichte im HTML-, Excel-, CSV-, Windows Help- und WORD-Format erstellt. Eine Aufgabe, die sonst viele Stunden in Anspruch nimmt. Berichte können auch nächtlich per Skript erstellt werden. Preis ab EUR 495 im Online-Shop.
Reporte werden automatisch innerhalb von Minuten erstellt. Vordefinierte Berichtsvorlagen erzeugen qualitativ hochwertige, professionelle Berichte. Alle Vorlagen sind an das Aussehen Ihrer Unternehmens-Dokumentation anpassbar. Der Bericht im Word Format kann als Grundlage für einen umfassenden Audit oder einen Konfigurations- (Bestandes-) Bericht für Ihre Projekte dienen und liefert rasch professionell aussehende Dokumente.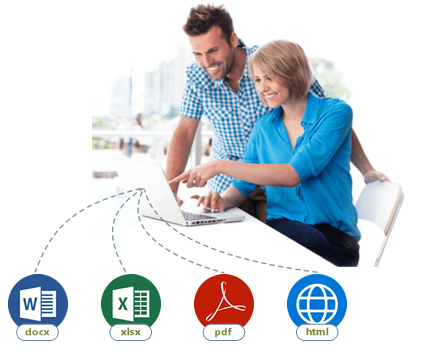 Sparen Sie Zeit und Geld und dokumentieren Sie automatisch Ihre Cisco Projekte
Erstellen Sie innerhalb von Minuten professionell aussehende Reporte im HTML- oder Microsoft Word-Format. Berichte können auf Ihren eigenen Vorlagen basieren, einschließlich Ihres eigenen Farbschemas, Schriftarten und Logos. Fügen Sie zusätzliche Informationen in die generierten Word Berichte ein, oder konvertieren Sie es ins PDF Format.
Die Berichte enthalten detaillierte Beschreibungen für jedes Konfigurationselement von Cisco Unified Communications Manager (CUCM), Unity Connection und Cisco Instant Messaging und Presence, Expressway, Cisco Meeting Server und allen weiteren unterstützten Cisco Unified Communications-Servern. Dokumentieren Sie problemlos alle Konfigurationseinstellungen von Cisco Unified Contact Center Express (CRS, UCCX), einschließlich der neusten Finesse-Details und aller Call-Center-Skripte. Mehr...
Vereinfachen Sie mühelos Ihre Analyse und Berichterstellung für:
Projekt Dokumentation

Konfigurations Reporte

Audits

Back-up

Telefonbestände (Phone inventories) oder Asset Management

SMARTnet
Machen Sie auch mit! 2,387+ zufriedene Benutzer des Report Tool
So finden Sie Änderungen in CUCM-, CUC- oder IMP-Konfigurationen
Mit dem UPLINX Report Tool können Sie Konfigurationsberichte oder telefonische Bestandsberichte einfach nachverfolgen, prüfen oder vergleichen, um Änderungen in Cisco Unified Communications zu erkennen und anzuzeigen. Mehr...
Was, wann und wer hat Änderungen an Ihrer Cisco UC-Konfiguration vorgenommen? Vergleichen Sie Konfigurationen mühelos und zeigen Sie Änderungen an.

Erstellen Sie ein kostengünstiges Konfigurationsverwaltungssystem für Cisco UC.

Erstellen Sie automatisierte Konfigurationssicherungsberichte.

Vereinfachen Sie Ihre Änderungsüberwachung, indem Sie die Änderungsnachverfolgung automatisieren und E-Mail-Benachrichtigungen zur Überprüfung der Änderungen senden. Überwachen und Verfolgen von Änderungen bestimmter Konfigurationselemente

Phone Inventory Audit-Berichte enthalten hinzugefügte oder gelöschte Telefone, Änderungen an der Telefonkonfiguration und den Registrierungsstatus.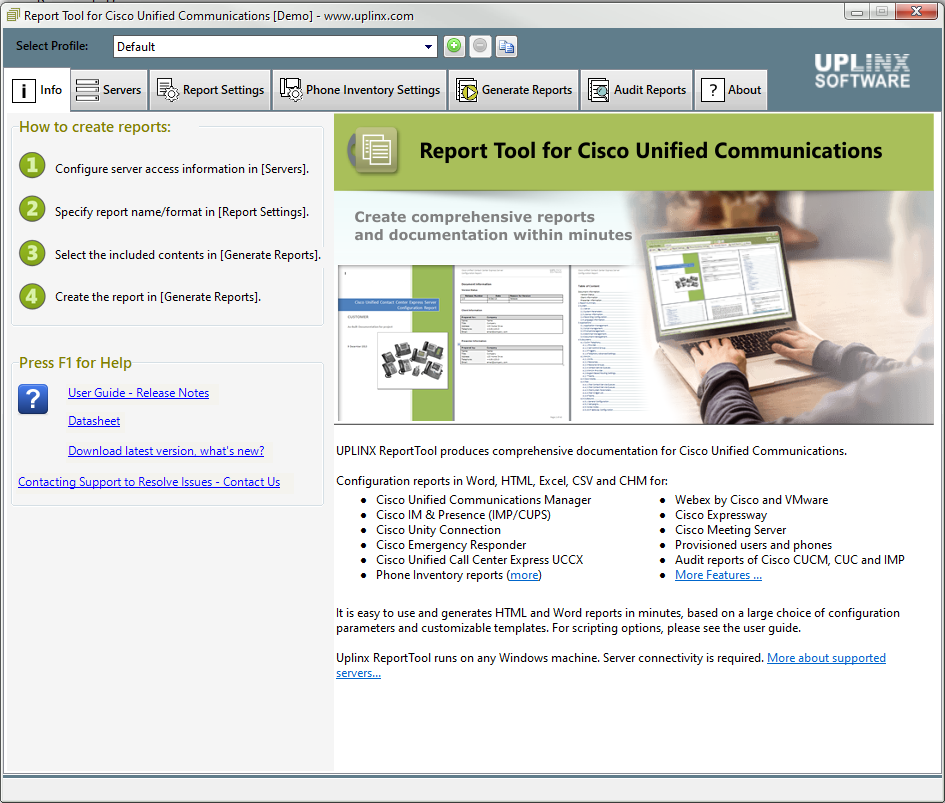 Report Tool for Cisco Unified Communications is a desktop application that generates reports for Cisco Unified Communications servers within minutes.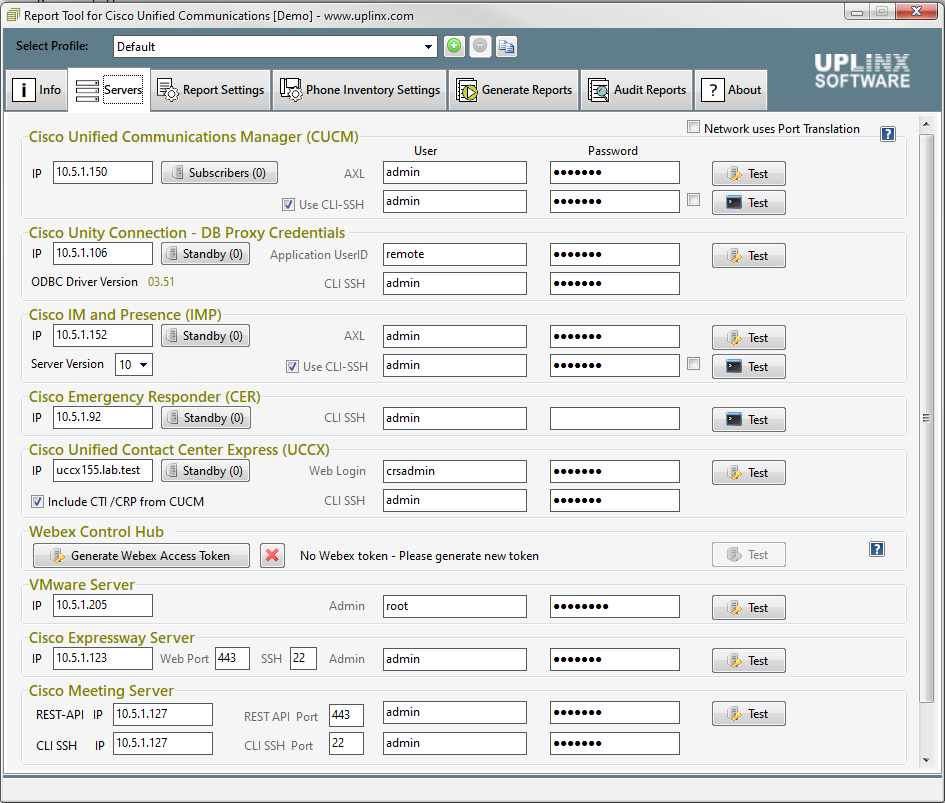 Step 1: Enter server details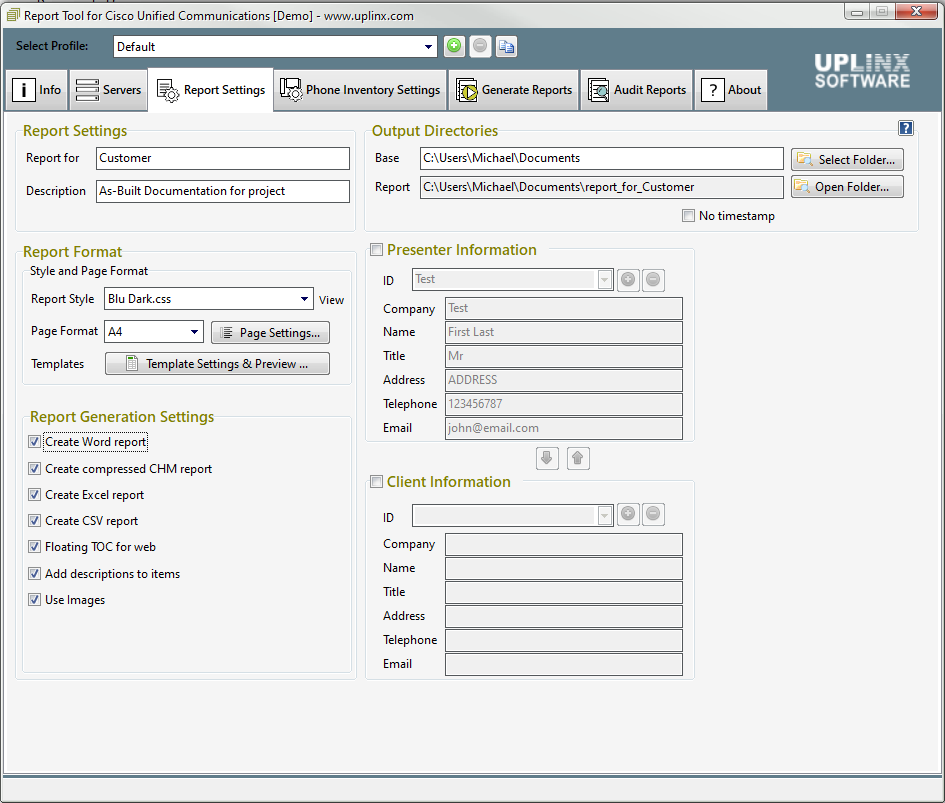 Step 2: Enter report settings such as report name and format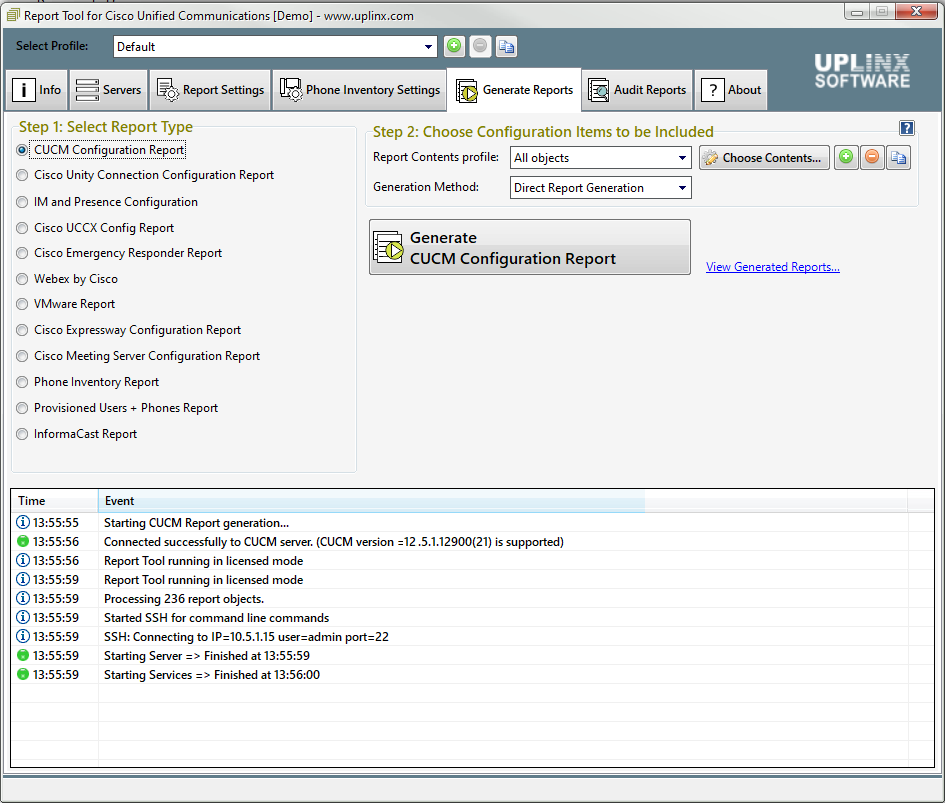 Step 3: Generate the report. Data is automatically retrieved and reports generated within minutes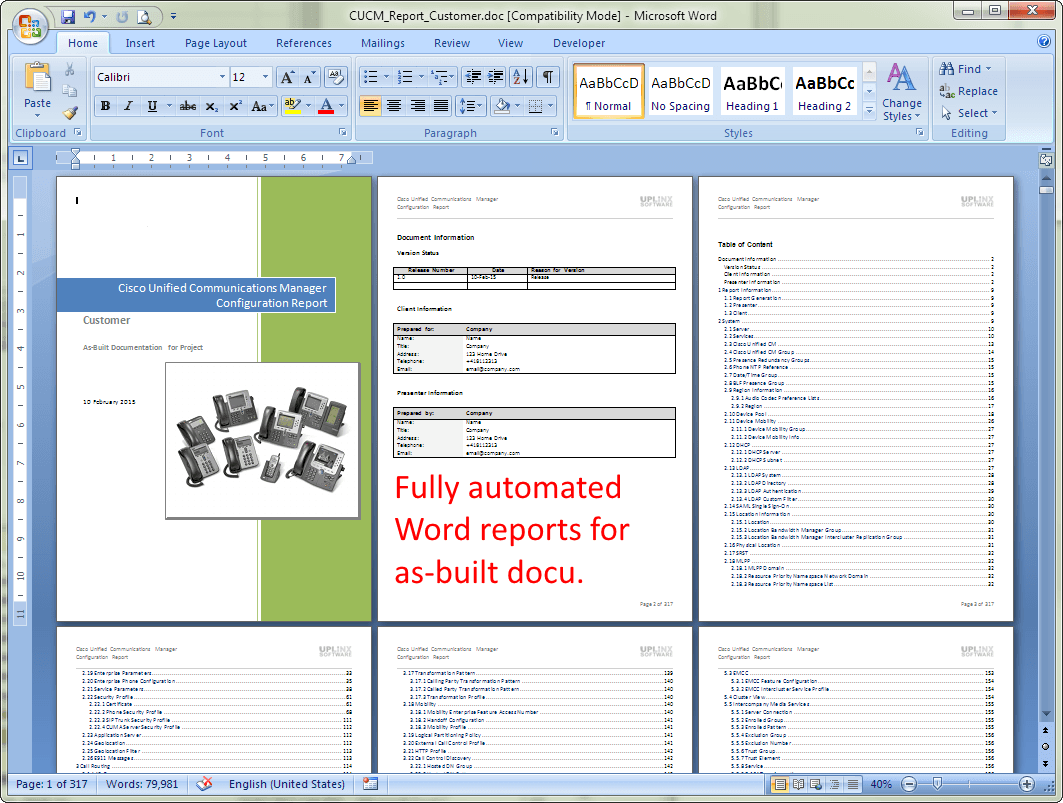 Step 4: View the reports. Reports are generated in the following formats: HTML, Word (DOC), CHM, CSV and Excel. See our sample reports in the Documents tab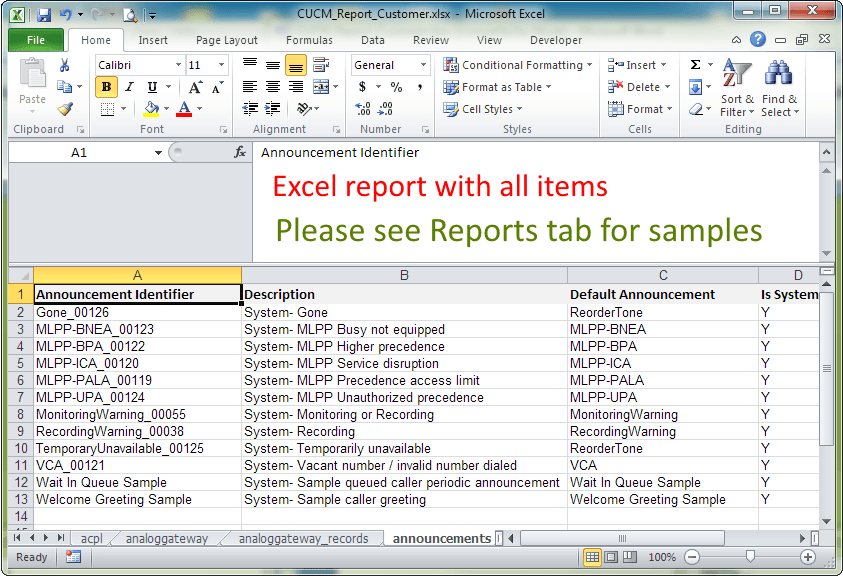 Excel reports allow further configuration processing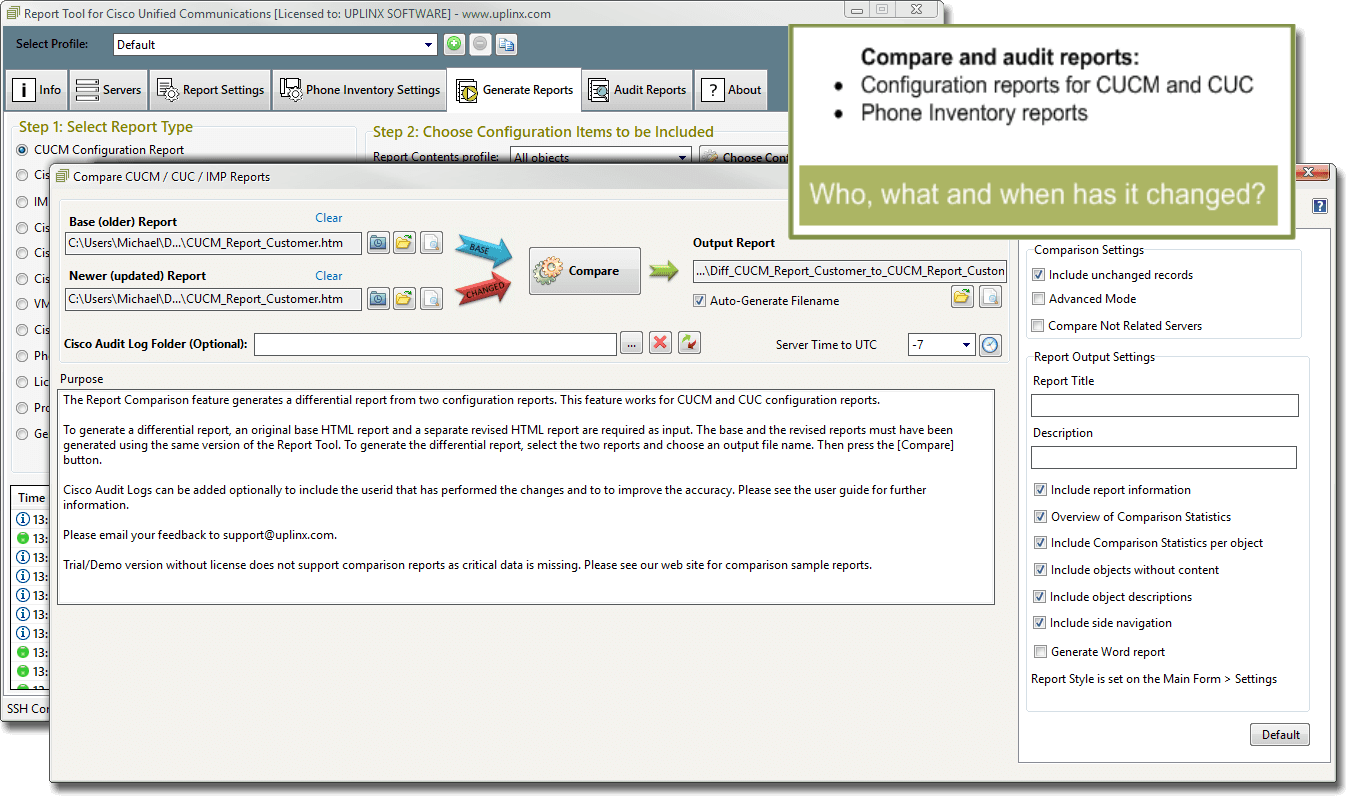 Audit/comparison reports: Compare reports to see what, when and who has applied changes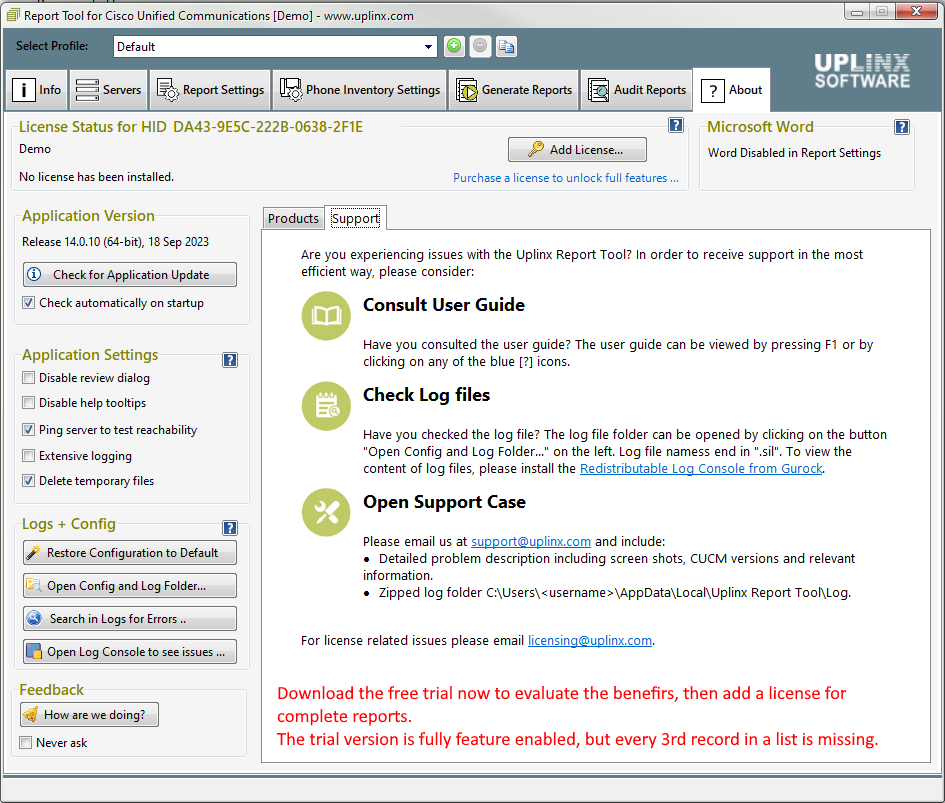 Download your free trial to see for yourself how easy it is to generate reports
Ich benutze das Uplinx Report Tool seit CUCM Version 6. Es ist fantastisch und ich empfehle es jedem VAR-Ingenieur, den ich treffe. Ich habe sogar mein Unternehmen davon überzeugt, es als Helpdesk-Tool einzusetzen.
Als Ingenieur benötige ich ein Tool, das die vollständige Dokumentation für Cisco Unified Communications generiert. Damit ich wertvolle Zeit für das Wesentliche aufwenden kann, nämlich für mein Fachwissen und die Bereitstellung des Projekts.