L'assistant d'opérationes en bloc pour Extension Mobility a été conçu pour que les administrateurs et les ingénieurs de déploiement de Cisco puissent effectuer des opérations par lots sur Cisco Extension Mobility. Un scénario d'utilisation typique consiste à déconnecter des téléphones, à migrer vers un nouveau serveur Cisco et à connecter les utilisateurs finaux Cisco sur le nouveau cluster CUCM.
Cette fonctionnalité peut s'avérer très pratique dans les scénarios de migration pour les utilisateurs finaux de Cisco, car ils n'ont pas besoin de connaître les modifications du serveur ni de procéder à des ouvertures de session manuelles. L'assistant de Bulk Extension Mobility peut être utilisé pour migrer des utilisateurs d'un serveur à un autre sans que l'utilisateur final ne se connecte manuellement.
Pour les nouveaux emplacements ou les utilisateurs finaux, les profils de périphérique créés, qui ont été créés dans Cisco CUCM BAT, peuvent être connectés aux téléphones sans engager les utilisateurs finaux. Un fichier de commande (au format CSV généré dans Excel) peut être traité par l'assistant de Bulk Extension Mobility ou peut également être utilisé et généré par l'outil de contrôle UPLINX Phone Control lors de la connexion, de la déconnexion ou de l'obtention de l'état opérations de commandement.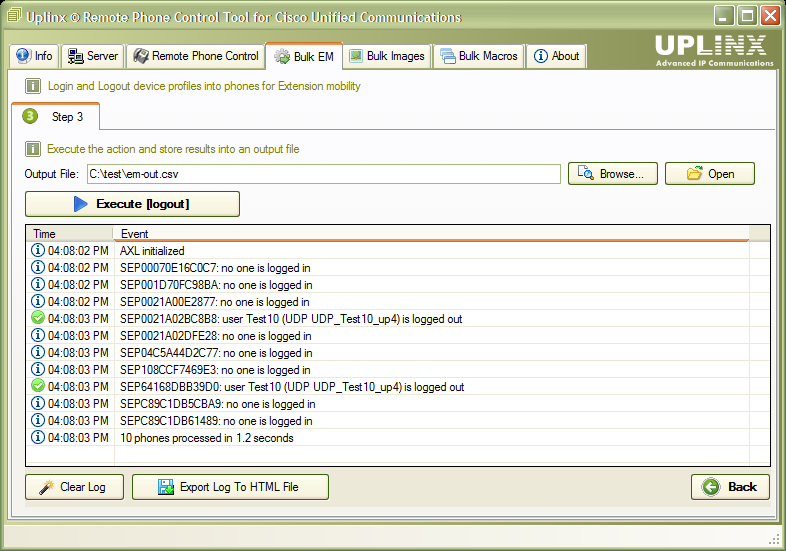 L'assistant Extension Mobility en bloc, ainsi que toutes les autres fonctionnalités en bloc, nécessite une licence professionnelle et n'est pas inclus dans la licence standard.
L'assistant Bulk Extension Mobility vous permet d'effectuer facilement des opérations de Cisco Extension Mobility sur un seul ou un groupe de téléphones Cisco. Il présente les fonctionnalités suivantes:wizard, along with all other bulk features, requires a Professional license and is not included on the Standard license.
Obtenir le statut d'utilisateur connecté et le statut de Extension Mobility pour un groupe de téléphones: exportez le statut connecté actuel, l'ID utilisateur et le profil de périphérique Cisco par téléphone vers un fichier CSV. Le fichier CSV sert de fichier de commande afin que ces utilisateurs finaux puissent être déconnectés ou connectés à ces téléphones ou à d'autres.

Déconnectez les utilisateurs finaux des téléphones Cisco: utilisez un fichier de commande CSV pour déconnecter en bloc les utilisateurs finaux Cisco.

Connexion des utilisateurs finaux aux téléphones Cisco: Utilisez un fichier de commande CSV pour connecter en bloc les utilisateurs finaux de Cisco.
Pour démarrer, téléchargez votre version d'évaluation et suivez les étapes décrites dans Bulk Extension Mobility for Cisco phones.